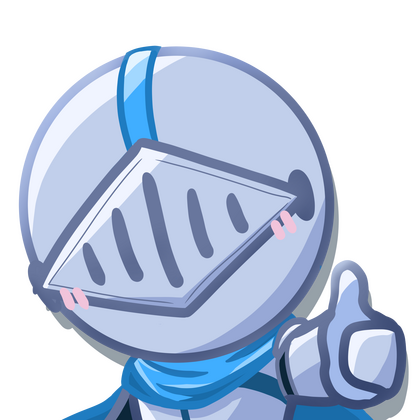 「 PindieGamer 」
Vector and Merch Artist
---
Commission Status: CLOSED
(Thank you so much again! Keep an eye on your emails for updates.)
Terms of Service• Depending on schedule, artwork complexity, and quantity of designs, commissions may take longer, but average turnaround time is 1-2 weeks. Progress updates will be given via email.• Payment is upfront and via PayPal. All prices set to USD.• I may decline a commission if it will take longer than the current time I have available (ie. during convention season) or if I'm uncomfortable with the nature of the commission.• No cancellation or refunds once I've begun the commission unless I am unable to complete the request.• Final files given will be as .svg and .pdf (vector and editable).
---
Vector (Enamel Pin) Commission Info
Sketch > Vector > Pin
Quotations are on per-design basis for vector conversion and clean-up. Final quote will be determined by:• The complexity of line art
• Degree of redrawing and clean up needed
• Degree of color separation work required
• Amount of colors in your artwork
• If any special formatting is required (eg. gradients)Setting up the file to be manu-ready is available as an additional option based on these guidelines (Pantones, size match to previous series of pins, file formatting, etc.)Color variants/design recolors will be considered as additional file formatting, not as a brand new design.
What's needed for quotation:
• Your intended rough dimensions for the enamel pin. (I will do my best to keep it within your intended size, but may offer recommendations based on line complexity.)• Image of the final art with intended color placements
What I also need to know for quotation:
• Whether or not you can provide PSD/Procreate with line art as a separate layer from colors OR high res PNG of line art only (black preferred)• If wanting a back stamp, please also provide a file/image of the intended logo (solid color only, black preferred)Note: Please keep line work as clean as possible. If lines in your art are too jittery or pixelated, it will be considered as needing a redraw.• If your enamel pin art requires screenprinting, I will need each color as its own separate layer. If I need to separate the individual colors for you (especially if in the same layer as the enamel colors), it will be considered a redraw.Note: if your artwork is only available as a single flat image or sketch form, it will be considered a redraw and will be quoted as such.• If you already have Pantones in mind for certain designs, please let me know and I'll stick to your choices. Otherwise, I'll offer a few suggestions of Pantone options and go with your preferences from there.
What I will not do:
• Give you my manu info (you must have one yourself)• Communicate to the manu for you (my only role is to provide you with workable files)
---
Quotation Examples
Below are rough estimations only. Prices are subjected to increase or decrease depending on the degree of work required. (ie. The less work required, the lower the quotation.)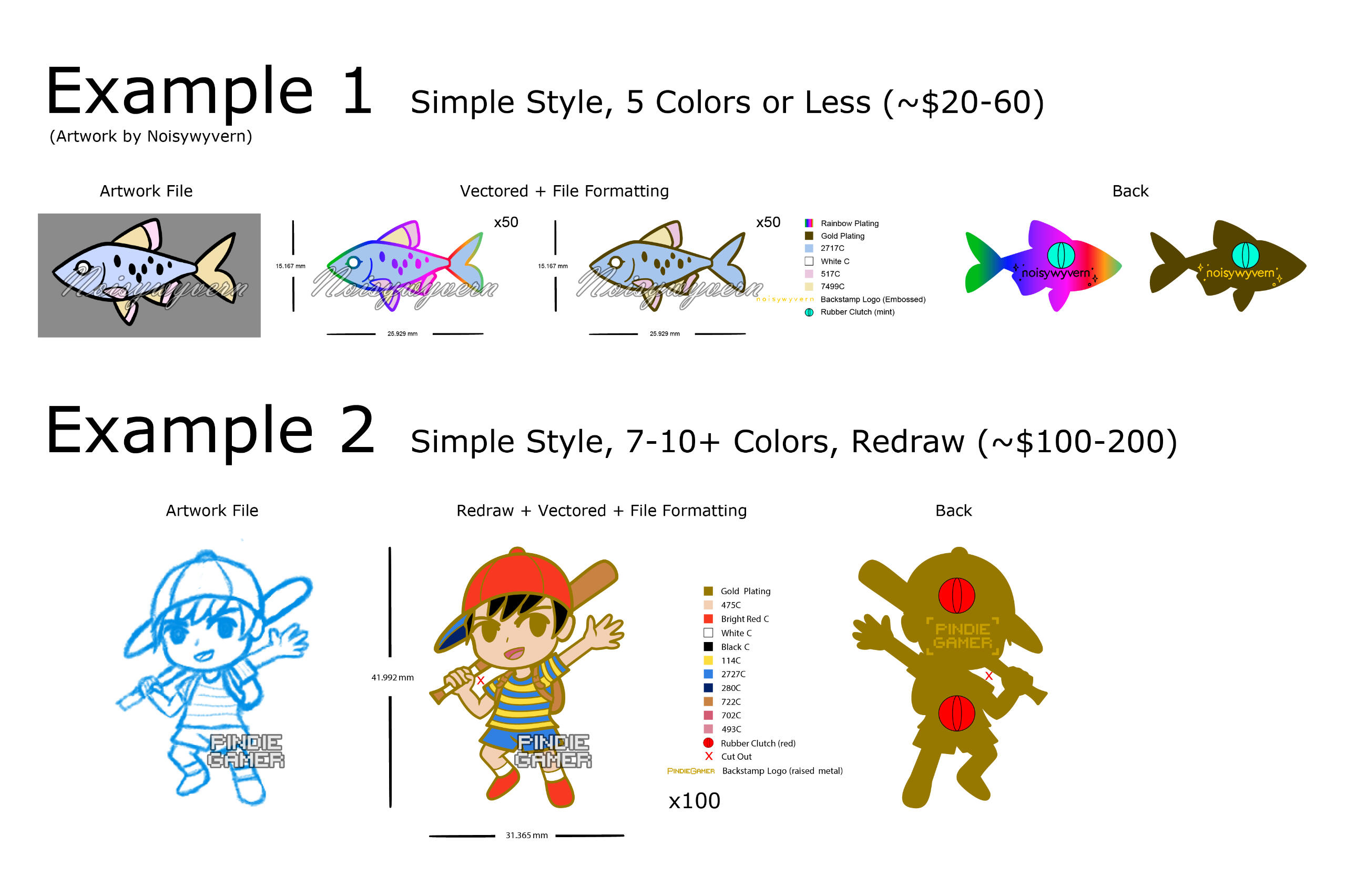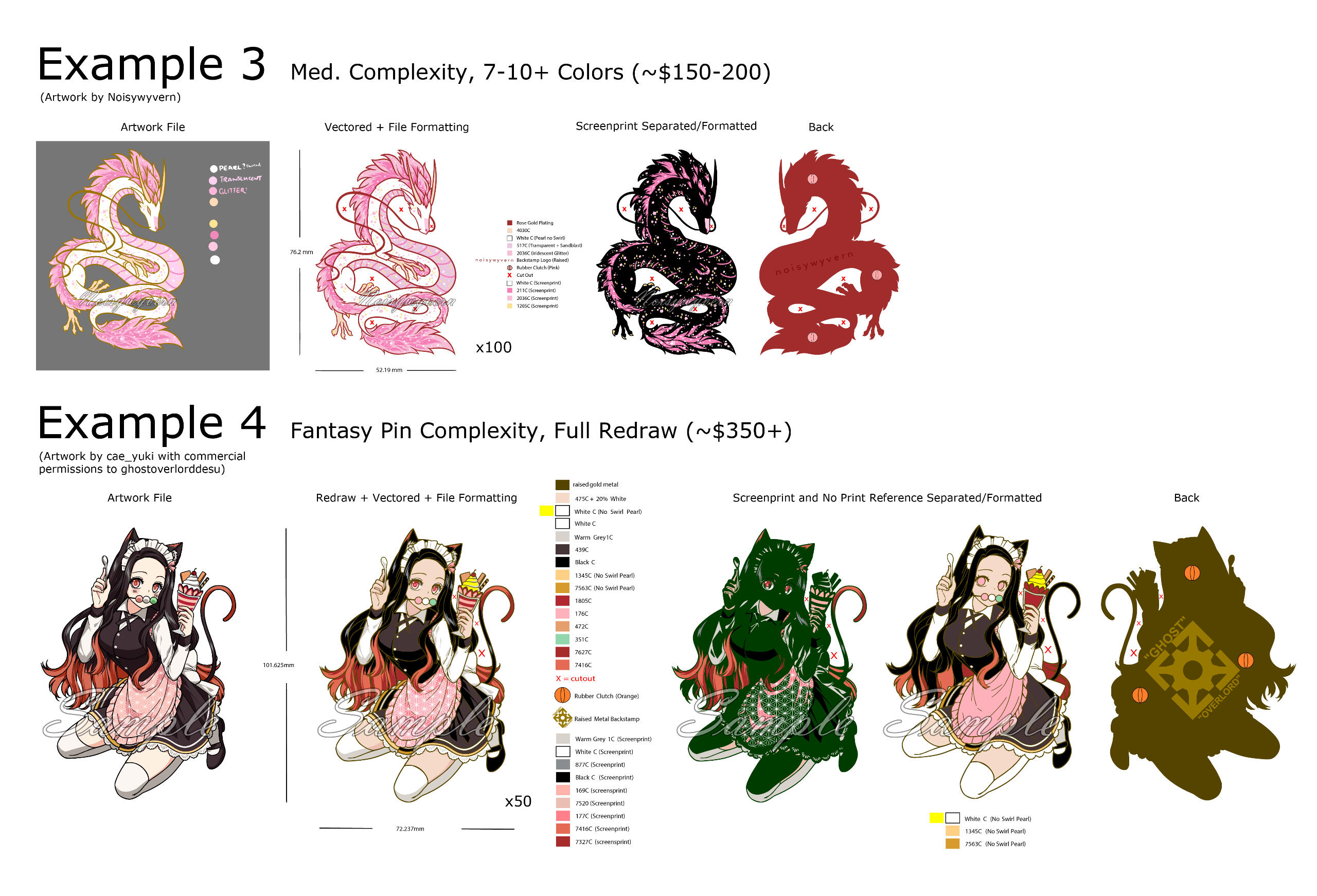 ---
Form of Contact:Email me at [email protected]Subject line: Vector CommissionPortfolio/Gallery
---
Pin Gallery
Sketch > Vector > Pin
---
From Concept to Conception
---
How Pins are Made:YouTube Video 1
YouTube Video 2
Beginner's Guides to Pin Making:- Welcome to Pin Hell (2018) by Hannako Lambert
- Enamel Pins 101 by thepinksamurai
---
General Tips and Tidbits:- Assume nothing.- Even if the art is coloured correctly, the written pantone codes, plating, measurements, etc. will be what the factory follows.- Samples are not generally offered by default. Consider them an additional cost for the additional work. Best to request if you are not sure of how certain colours or special effects will look.- Molds can't be changed once made, but you can make multiple colour variants with the same design. Molds also have a shelf life of roughly two years before your manu has to replace the mold.- Glitter and Glow-in-the-dark powders are not always colour-matched to your pantones. Consult your manu for their glitter/glow offerings.- Pin grading is subjective and will vary by maker. Here is an example of mine. This one is another example with a more thorough breakdown.
---
Re: Soft Enamel:- Glitter can fall off the enamel if there is no epoxy coat sealing it in place.- Epoxy is not always offered by default. State it in your file if you want it for your pin.- Screenprinting can be printed with or without epoxy present. If epoxy is present, the screenprint will be printed on top of the epoxy layer, which will cast a shadow underneath it.
Re: Hard Enamel:- Line thickness can vary due to the sanding process. There is always a risk oversanding, especially near areas with tiny colour spots or near the edge of a pin.- Colours may come out slightly darker due to the baking process.
---
Re: Factory Errors/Worst Case Scenarios:- No manu will ever give a flawless order 100% of the time. The best manu rep is one willing to compromise a solution when an order does go wrong.- Not all pin flaw types are considered reasonable enough for a refund/remake. Due to the handmade nature of pins, exercise judgement when determining what is within reasonable human error and what is a more obvious factory error.- Very rarely will a manu ever refund an order 100%. More often, the refund amount would be based off the unit costs and not the mold fee.Examples of flaws worth bringing up to a manu for orders with a high flaw ratio (~40% or higher):
- Chipping/craggling plating
- Incorrect enamel colouring in more noticble areas
- Visibly large underfilling
- Unusually high numbers of dust particles/air bubbles, etc.Disclaimer: Not all manu are guaranteed to remake/refund based on the listed flaw types above.
---
How to Format Pin Files for Manus:
Manu Preferred Format:
- Vector AI or PDF
- Pantone Solid Coated Colour Bridge
- High Res Image submission is still possible (with line art as a separate image)All enamel-filled colours must have lines surrounding them.
Minimum Colour Space Needed Between Metal Lines:
- Soft Enamel: 0.3mm
- Hard Enamel: 0.5mmRecommended Minimum Metal Line Thickness:
- Soft Enamel: 0.12mm
- Hard Enamel: 0.2mmMinimum Clean Cutout Space Needed:
(Spaces smaller than recommended sizes may result in recessed metal areas instead.)
- 0.8mm Outer Cutout (between metal)
- 1.5mm Inner CutoutMinimum Screenprint Size:
- 0.1mmTypes of plating available:
- Silver/Nickel, Gold, Rose Gold/Copper, Black Nickel
- (Soft Enamel/Dye Struck Only) Antique Gold/Silver, Rainbow/Anodized, Pantone Dyed
---
Example of File Submission Formatting:
File Submission (Cleaner Example):
---
Previous Tables
Design Works
Enamel Pins
Sketch > Vector > Pin
Pattern Work
Product WIP + Future Products